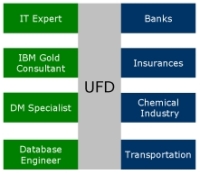 Offering for enterprises
We are well-known to supply the enterprises with qualified and committed IT specialists. We do not evaluate appropriate candidates by searching the CV after keywords. Based on our own IT know-how we are enabled to reconciliate the whole spectrum of your requirements on a candidate with the whole spectrum of experience and knowledge a candidate brings with him - even the soft factors. And we know many of our candidates since a long time.
 We offer you the following services when searching for an appropriate IT specialist:
we discuss with you your requirements on an IT specialist and your conditions
we develop the profile based on your requirements and conditions
we search for an appropriate candidate inside our network, eventually in online services
we analyze all applications received and evaluate the possible candidates in personal contact, and we ship you their documents 
you evaluate the applications of the possible candidates and dertermine your candidates - if need is after consultation with us
we organize the assessment with those candidates and you determine your candidate
we negociate the contract between your enterprise and UFD, and at the same time between your candidate and UFD
We support you by searching for qualified IT specialists. Save your time and money and let us seach for you.
Please pay attention to the information about your advantages to go with us, and our services, by pressing the buttons on the left side.