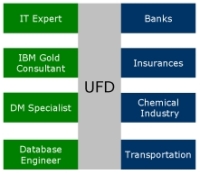 Offering for freelancers
You are a freelancer and a reliable IT specialist and you prefer a reliable partner on your side who successfully places you in enterprises? Then you are right with us. While we are IT specialists we have many and interesting contacts. And while we have a lean management we can offer interesting conditions.
Send us your application documents
After having got your documents we perform an assessment with you to get an idea about you and your profile
As soon as we have a mandator with requirements that could fit to your profile and your requirements we discuss that with you
We organize an assessment with you and the mandator
we negociate the contract between the mandator and UFD, and at the same time between you and UFD and we arrange the administrative processes. We offer different models, i.e. an employment at UFD, or UFD as accounting partner, or UFD as subcontractor
We support you in other areas - please pay attention to the information about your advantages to go with us, and our services, by pressing the buttons on the left side. Or just call us.